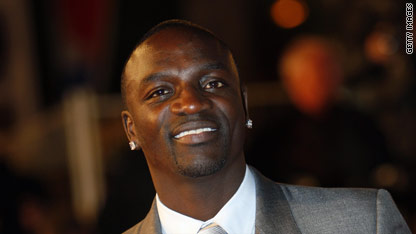 testing captions
Akon felt and looked like a proud papa on the Grammys red carpet, clad in denim and a Lady Gaga T-shirt.
"I'm looking forward to Gaga opening up; I'm very, very excited," Akon said. "Lady Gaga is the first lady of my record label, I'm more proud of her than anything. I helped guide her career, but she deserves it. It's different watching someone work so hard, and see them reap the benefits of their hard work. I'm like a proud dad right now."
When CNN asked the rapper/singer about some of the bad press he's received in recent years, Akon said that it's just part of being successful.
"Everything that happens in your career on the way to success, it needs to happen for you to be successful ... you have to accept the good and the bad with it. If you don't go through controversy, you can't measure the amount of support you'll get from the world," he explained. "Look at Tiger."
Yes, Akon. What about Mr. Woods?
"It's unfortunate, but I don't see [any] guy in America that's not going through that. I went through it. In general, we're young, rich and we like to have fun. [But] it can be overexaggerated in certain areas," he said. "You're human, you're going to make mistakes, but you have to figure out how to make it right."
As for what Woods should do, Akon believes he should "just face the situation for what it is."
"You can't run from it," he said. "[Tiger] needs to make it right with his family before anything; it's something he has to do internally."