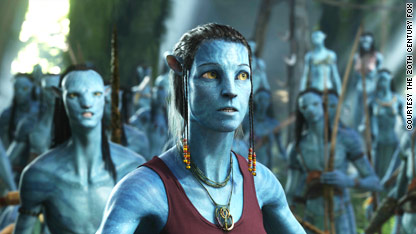 As we all know, "Avatar" is making ridiculous amounts of money: it just became the all-time worldwide box office champ, and appears poised to pass "Titanic" for the domestic crown within a couple of weeks.  But what does that mean?  I've given it some thought, and consulted boxofficemojo.com and other resources, and here's some perspective.  (Keep in mind that this would be a lot simpler if theaters and studios released data on tickets sold, but then we wouldn't have as many of these lovely debates.)
Certainly, when you adjust for inflation, "Avatar" is knocked down a few pegs: it's "only" 26th all-time in domestic ticket sales.  "Gone With The Wind" leads that chart, with "Titanic" in sixth place.  "Avatar" would have to boost its current $558 million in grosses to $957 million to top "Titanic" on that chart... and to surpass "GWTW," a mind-numbing $1.5 billion.

Beyond inflation, "Avatar" has benefitted from ticket price increases due to IMAX and 3D.  Still, moviegoers are choosing to pay those premiums, just as they choose to pay higher ticket prices overall as the years pass.
Some more relevant numbers: in 1939, when "GWTW" was released, the U.S. population was only about 131 million – a pool of potential moviegoers that had swelled to 267 million by the time "Titanic" hit that iceberg in 1997, and an estimated 315 million today.  And obviously, there are many more movie theaters showing "Avatar" and other contemporary films than there were 70 years ago.
"GWTW" looks better and better – will any movie ever come close?  Probably not, but consider this: if people wanted to see "GWTW" back then, they knew a trip to the movie theater was their only opportunity – no VHS, DVD, Blu-ray, internet downloads, Netflix, or endless showings on cable.  It's also benefited from re-releases, a maneuver which has also boosted the total grosses of the "Star Wars" films.
Comparing James Cameron's two epics, "Avatar" has been the box office champ an impressive six weekends running, and its grosses aren't falling off much from week to week.  But "Titanic" led the weekend box office continuously for more than three months, thanks in part to all of those teenage girls who famously returned 10, 12, 15 times to swoon over Kate and Leo.  With high IMAX/3D ticket prices, will "Avatar" fans come back for enough repeat showings to keep the film atop the chart into March?  Time will tell: last weekend, its sixth in theaters, it made twice as much as the second-place film, and the first few months of the year usually aren't rife with blockbusters.
It's a topic with a lot of angles – you could say, a veritable "Pandora"'s box.