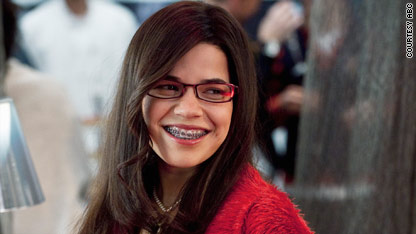 testing captions
ABC has confirmed that "Ugly Betty" will be just a memory once this season - its fourth - comes to an end.
"We've mutually come to the difficult decision to make this 'Ugly Betty's' final season, and are announcing now as we want to allow the show ample time to write a satisfying conclusion," a spokesperson for ABC said in a statement.
"We are extremely proud of this groundbreaking series," the statement continued, "and felt it was important to give the fans a proper farewell."
If you're a fan, you probably had a hunch this would happen. The show went from Thursday nights last season to Fridays at the beginning of this season - always a tough night - only to be moved again to Wednesdays when it returned from a hiatus in January.
No doubt part of the show's ratings problem is because viewers can't remember when the show is even on.
But are you ready to see America Ferrera to move on to newer, prettier pastures? And what are your predictions for a proper "Betty" farewell?