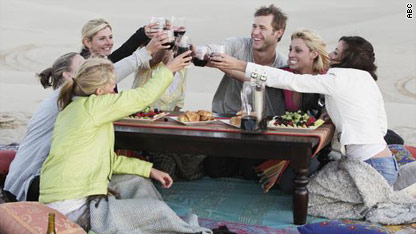 testing captions
The nine remaining women are in two RVs, traveling up California's Pacific Coast Highway to have more adventures with Jake.  Our hero, meanwhile, is traveling by himself on his motorcycle.
We start with a one-on-one date in a vineyard, and Jake has chosen Gia as his betrothed for the day.  Vienna thinks New Yorker Gia and Southerner Jake may not mix, but Gia believes they will click.
The date begins with Jake and Gia playing hide-and-seek in a vineyard, then a game of spin the bottle.  This is like watching fourth graders on a "supervised" date.  I half-expected to see someone's parents hiding in the bushes.
We move on to what looks like a Boy Scout Jamboree.  Jake and Gia make hot dogs and s'mores by the fire, and Gia proclaims that "they don't have skies and stars in New York."  Never been to Broadway, have you Gia?  Jake says he "absolutely had the absolute best time," and gives Gia a rose.
Our next stop is Pismo Beach - no taking the wrong turn at Albuquerque here - and a six-woman date involving the women getting, in Jake's words, "extremely dirty."  Hmm, the only time I went to Pismo Beach, I did laundry because I ran out of clean clothes during a California vacation.  Laundromat, here we come?
Nope, it's dune buggy time!  After that, the women take part in "sand surfing," which looks like something created for a 1960s beach movie to try to keep the plot moving.  Jake appears to enjoy watching the women fall on their face and eat sand.
The gang now goes to a nearby hotel, where the girls clean up and spend one-on-one time with Jake.  With Vienna one of the six, the others, as usual, hope for her departure.  But in the end, no one leaves, and Jake gives Tenley the rose. 
We're now headed to Big Sur, where Kathryn and Ella are participating in what's essentially a "do-or-die" date.  At the end of the date, one should get a rose, and one should go home.
But it's not to be, as Jake pulls what's perhaps the 27th biggest shocker in "Bachelor" history by sending both Kathryn and Ella home.  Jake says he cared for both, but couldn't imagine being with either of them for the next 60 years.  Kathryn and Ella say their eliminations didn't make sense.  Haven't watched previous seasons of the show, have you?
It's on to the cocktail party with no light appetizers, and five women competing for four roses.    Jessie tells Jake to get rid of Vienna, claiming she's self-centered and spoiled.  Vienna tells Jake she feels as if she's being judged differently, but Jake says he forms his own opinions.
At the rose ceremony, Jake opts to keep Ali, Corrie and...wait a minute, Jake needs to step outside to talk to Chris Harrison, who's not only the host of "The Bachelor," but possibly the show's general manager and commissioner as well.  Jake asks Chris, who's been married for 16 years, what he would do in this situation.  Chris says that since Jake believes two of the three remaining are not "Mrs. Jake" material, a rose will be removed and two women will be eliminated.
In the end, Jake eliminates Jessie and Ashleigh and keeps Vienna, much to the shock of everyone but Jake, Chris, part of the production crew and most of the viewing public.  Ali is peeved about this development, and threatens to leave the show.
Next week, Jake and the five remaining ladies head to San Francisco.  Will Jake continue to be picky?  Will the women blame Vienna for global warming and nuclear proliferation?  Will Chris Harrison parlay his decision-making skills into a guest hosting gig on "WWE Monday Night Raw"?
What did you think of "The Bachelor"?