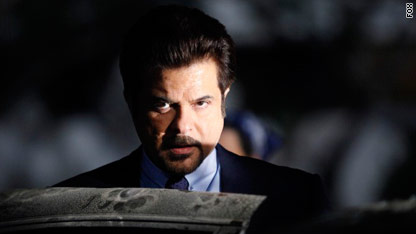 testing captions
Day 8, 8 p.m. – 9 p.m.: Last week, many of the "Bauerites" on this blog mentioned the addition of "Mr. India" himself, Anil Kapoor. Kapoor is well known as one of the biggest names in Bollywood and across the globe after his award-winning performance in "Slumdog Millionaire."
After last night's episode, I am here to make amends for any prior blog (OK, one) that was sans kudos for Mr. Kapoor. President Omar Hassan has become one of this season's most intriguing characters, and Kapoor delivers an endearing, believable performance as the troubled President of Kamistan.
I thought the show did a great job setting up Hassan's character in the first four hours, and then added layer upon layer of his thick dilemmas in last night's episode. So far, Hassan faces a country in turmoil, a failing marriage and his brother's plot to have him killed all in the five hours elapsed thus far.
Good grief, do you think President Hassan's got a full plate? I do, but if we know the show's creators, we know that no character is safe as the day goes on. Pretty soon, I can see a new subplot coming with Hassan's daughter getting mixed up in something else for him to worry about. Mark it down.
Meanwhile, sadistic/gentle (now just "sadistic") Agent Renee Walker seems to be speeding down a path to insanity. While she doesn't appear to be a loose cannon, she just doesn't seem to be "all there." I thought the background info on Renee's undercover work helped to raise the tension level of the scene as Jack tries to make sense of what he was seeing in her behavior. As usual, Chloe delivers.
On the Dana Walsh front, remember last week's pesky "ex-boyfriend sleeping in the van?" Well, this guy has stepped up his game big time! Now, he gets to threaten/harass Dana from HER phone on HER couch in HER apartment. What exactly does he have on Dana, and how does CTU NOT know about her past life?
Whatever it is, Dana's secret will soon come to light, and I think its going to be a pretty good subplot. The slimy dude seems to be about as sharp as a bowling ball, so whatever big thing he's got brewing, don't worry Bauerites, he'll screw it up. I'm banking on it. Let's keep watching to see exactly how he manages to do that.
The verdict? Spent. Another solid episode is in the books, and while this one wasn't packed with action, the tension was high as we got some good insight on the stories unfolding.
Loved, kinda liked, or hated the show? Let us know!