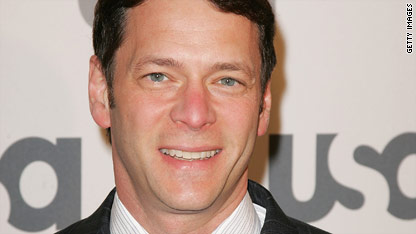 testing captions
Maybe NBC Universal Television Entertainment Chairman Jeff Gaspin didn't get the memo about how NBC was spinning the creation of "The Jay Leno Show."
According to the Los Angeles Times, Gaspin told reporters at the National Association of Television Program Executives conference that the decision to create "The Jay Leno Show" wasn't wholly financial, as NBC President and CEO Jeff Zucker has previously stated. (By creating a talk show five nights a week, NBC didn't have to shell out for pricier hour-long dramas.)
"The primary focus," Gaspin said, was to keep Leno from going to ABC.
The decision has earned NBC historically bad PR, and cost the network Conan O'Brien as the host of "The Tonight Show." Gaspin admitted he didn't see O'Brien's reaction coming and thought O'Brien would go along with the originally proposed schedule, which put "The Jay Leno Show" at 11:35 and "Tonight" at 12:05.
Gaspin said his goal was to keep both Leno and O'Brien, and he "underestimated the emotional impact [the schedule change] would have on Conan."
The network is now trying to put the mockery they made of their programming behind them, and Gaspin doesn't think NBC or Leno are permanently damaged. The Winter Olympics, he said, will be a "cleansing moment."
After the Games conclude, the network can revamp its prime-time strategy with some new programming – including scripted dramas they should have slated for 10 p.m. in the first place.