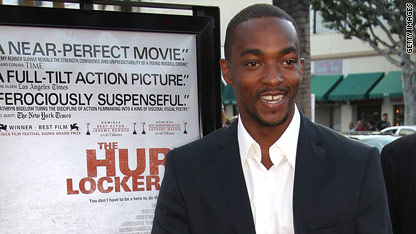 testing captions
No one is more surprised by the awards season success of Iraqi war drama "The Hurt Locker" than one of its stars, Anthony Mackie.
"If anybody tells you they expected any of this they're lying," Mackie told CNN during an interview to promote another movie, his Sundance film "Night Catches Us" this week. "It was a hard movie to make and by the time everybody got to the end of the shoot everybody was happy that it was done. We were happy making the movie but there was nothing easy about it."
After two-and a half months of a grueling location shoot in Jordan, Mackie says the cast walked away having lost a lot a of weight with some great tans.
The shoot for "Night Catches Us," a drama set in the 1970s at the end of the Black Panther movement, was challenging for Mackie as an actor, but much less physically grueling. Still Mackie didn't get the role of a former Black Panther party member who struggles to reconcile his past, without a fight.
"The actor they were considering for the part fell out and I made my move," Mackie said. "I had to give quite the spiel."
The character of Marcus was a complex one, something the actor wishes to engage in more of in his future in the film industry, a future that he hopes includes a wider array of roles for black male actors.
"There are a definite lack of a certain kinds of roles for young black actors. Can a brother be a hobbit?" Mackie asked.
"I would love to be a super hero. I would love to be a love interest. I want to be the dude who gets the chick and is awkward and funny onscreen and gets to kiss the girl at the end of the day. If you're a black guy in a comedy today you're not in a situational comedy and I'm not interested in doing 'Soul Plane.'"
To correct that imbalance, the actor who has portrayed Tupac Shakur, Nat Turner and Jesse Owens onscreen and is without a doubt one of the fastest rising stars in Hollywood says he is prepared to just write the scripts himself.
But in the meantime he is a busy man. Mackie is in the midst of rehearsals for the Broadway production of the dark comedy, "A Behanding in Spokane," opposite Christopher Walken.
"Chris is an interesting character and we have had a lot of fun working on the play so far. He makes dynamic choices and puts you in a position to do your best work," Mackie said, "And he has a real sense of humor. He's not as weird as I thought he'd be. I haven't seen that part of him yet."
As for that superhero Mackie would like to play? His super power of choice would be the ability to see through walls.
"My superhero would be like Will Smith's character in 'Hitch'. He would like women just as much as the guys he is hooking up, but would be able to see through the walls to watch what happens after they get together."
It seems clear that once Mackie gets pen to paper, we'll be seeing and entirely new genre of comedic superhero poised as a romantic leading man.