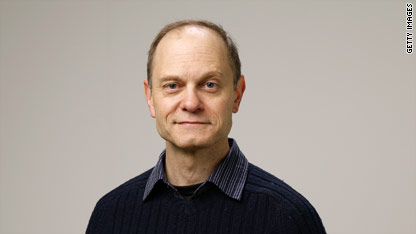 testing captions
David Hyde Pierce is probably best known for his Emmy-winning role as Dr. Niles Crane, the uptight brother on the long-running sitcom, "Frasier." So it shouldn't be a surprise that his character in his first feature film-starring role in the psychological thriller "The Perfect Host," starts out as very Niles-like.
Pierce plays Warwick Wilson, an adorably neurotic, vaguely effeminate man with impeccable manners, O.C.D., and a love of fine wine. A bank robber played by "24's" Clayne Crawford talks his way into Wilson's home and uses it as a place to hide out, just as the perfect host is preparing a dinner party. That's when facades begin to crumble and the audience gets a peek at an entirely different side of Pierce.
It was important to director and writer Nick Tomnay that Pierce's character of Wilson be someone that the audience immediately relates to and has concern for. After seeing a late-night "Frasier" re-run, Tomnay couldn't think of anyone better suited for the role.
"Wilson should open the door and as an actor bring all of his previous acting jobs with him," Tomnay said. "I wanted someone the audience would know immediately and feel sympathetic for and feel concern for."
Pierce loved the script and the role, but most of all he liked the idea of starting out in a familiar place and then going somewhere entirely different by the film's end.
The filmmakers remain tight-lipped about the character's transformation since it is the basis of the thriller, but suffice it to say, Pierce lets his freak flag fly in the second half of the film.
"It allowed me to start in a place audiences would be familiar with and to go someplace they would not expect and that was a great opportunity for me as an actor," Pierce said.
When "Frasier" ended after an 11-year run Pierce worked on Broadway, did smaller roles and voice work, but in the back of his mind he was looking for the right material that would give him a starring vehicle.
"It was pretty rare for something to come along that I wanted to do," Pierce said. "Anything that came along that had that big of a role was always similar to the roles I have been playing for years and I didn't need to do that anymore. This was the right confluence to allow me to expand on my range."
The movie is still looking for distribution at Sundance, but has been gathering a following - especially among industry folks hungry for the creepier fare of thrillers and horror movies such as "Paranormal Activity," which came of out a film festival last year to make big bucks at the box office.
"We probably should have gone for 3-D," Pierce joked. "But I can't even imagine what we would have had pop out at the audience."