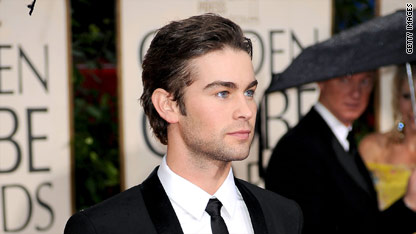 testing captions
Gossip boy Chace Crawford and Julia Roberts' niece Emma are two of the stars rounding out director Joel Schumacher's return to independent film, "Twelve," the teenage drama that will close out the Sundance Film Festival this week.
In the movie, based on the bestselling novel by wunderkind author Nick McDonell, Crawford plays a high school dropout who starts dealing drugs after his mother dies of cancer. Unlike his pretty-boy alter-ego on the CW network, Crawford's character in this film is the outsider looking in on the Upper East Side teenage debauchery. "Twelve" could be retitled, "Gossip Girl: Raw."
But Crawford gives a strong performance, as does Roberts as the girl from the wrong side of the tracks (in this case the East River) who has a crush on him. A highlight of the film is definitely Curtis Jackson, aka rapper 50 Cent, as a murderous drug dealer. Unless Jackson was using a booty double in the movie, he has been hitting the gym pretty hard, as evidenced in his nude scene. A narration by Kiefer Sutherland makes viewers hope that Jack Bauer will come in and save what turns out to be a really bad day for the kids of the Upper East Side.
The film, like the book, culminates with an epic bloodbath that might not earn it the PG-13 rating it will need to galvanize the "GG" audience without some time in the editing suite before it is given theatrical distribution.