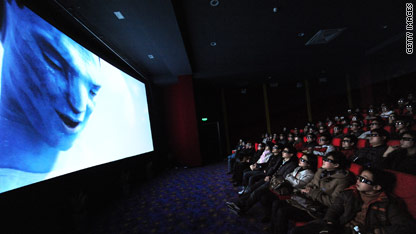 testing captions
The studio behind the record-breaking box office hit "Avatar" attributes the film's enormous success to moviegoers embracing director James Cameron's message of respect for life and a hope for a peaceful planet.
"Its success results from the efforts of literally thousands of people, who over the course of several years worked to bring James Cameron's vision of Pandora to life. The themes of protecting the environment, respecting life, and yearning for a peaceful planet have united moviegoers worldwide," said 20th Century Fox spokesperson Natalie Johnson in a statement.
"Avatar" is now the highest-grossing movie of all time. James Cameron's 3-D epic adventure eclipsed worldwide box office sales of the previous top-selling flick, Cameron's "Titanic," on Monday, making $1.859 billion at the box office compared to "Titanic's" $1.843 billion. The difference between the two? A mere $16 million. And "Avatar" will only continue to bring in cash. The film has only been in theaters for 6 weeks.
"Titanic," a love story set aboard the ill-fated luxury liner, also directed by Cameron, held onto the record for 13 years. Prior to that, the all-time box office champs included "E.T." and "Star Wars."