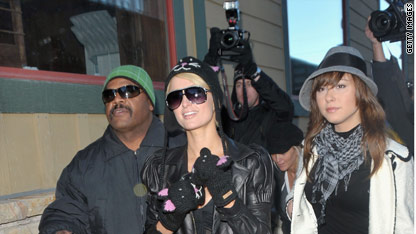 testing captions
For indie film purists, the invasion of Park City by reality stars seems like a travesty to the true spirit of the Sundance Film Festival.
I never mind running into a parka-ed Jon Gosselin on the street because getting in a good solid belly laugh is good for my soul, but it does beg the question: What is Gosselin and a slew of other reality stars doing at a festival that celebrates the work of filmmakers?
They come for the parties and the free gifts and to get their pictures taken in the snowy mountains. Maybe one day they'll all get to star in their own indie film, "Invasion of the Z-list." It could be real actor Adrian Grenier's follow-up to his fantastic Sundance documentary "Teenage Paparazzo."
"Hills" cast-member Stephanie Pratt told CNN she was at the festival strictly to take advantage of a free snowboarding lesson at Oakley's Learn to Ride Snowboarding event at the Park City resort. They outfitted her with snowboarding gear and hooked her up with two professional instructors.
Whatever you do don't ask Stephanie about her brother, the infamous Spencer Pratt, husband of the  plastic-surgery loving Heidi Montag. "Would you want to answer questions about your family to a stranger?" Pratt snapped. No, but we aren't on reality television.
Dad of eight, Jon Gosselin is out in Park City, ostensibly hanging out with his Utah-based girlfriend Morgan Christie, but spending most of his time making sure the paparazzi get pics of them smooching on the street whilst getting some luxe gifts at the gratis gifting suites.
Other folks who seem to have no business at the festival include New York socialite Tinsley Mortimer, Paris Hilton and boyfriend Doug Reinhardt, "Dancing with the Stars" champion Cheryl Burke," "Real Housewife" Gretchen Rossi and last but certainly not least, a Kardashian (Khloe).