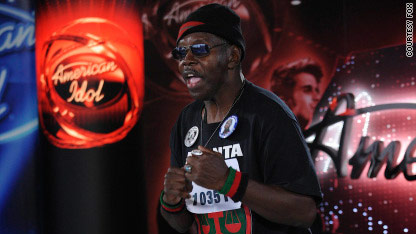 testing captions
(Editor's Note, Tuesday, January 26, 6:10 p.m. ET: FremantleMedia has responded to this blog post. See the company's statement at the bottom of the entry.)
It appears that "American Idol" judge Simon Cowell wasn't the only one who suspected "Pants on the Ground" would become a hit.
According to information on GoDaddy.com, the domain name pantsontheground.com was snapped up in November and registered to Patrick Lynn.
Lynn is a supervising producer for "American Idol" - and the URL now links to "Memorable Auditions" on "Idol's" official Web site.
The timing of the registration of the domain name is interesting given that the performance of the song did not hit the airwaves until January, when it promptly went viral.
A receptionist at the "Idol" offices confirmed that Lynn is indeed a producer on the show, but referred all other questions to FremantleMedia, "Idol's" production company. The company's Manfred Westphal responded to CNN's questions Tuesday.
FremantleMedia responds:
"Since the start of AMERICAN IDOL, contestants have tried to register their name, original song or website, only to find out its been registered by someone else, who then tries to sell it back to them for a huge profit.  It happens to contestants who go to the Top 24 all the time," said Manfred Westphal, SVP of marketing and communications for the show's production company, FremantleMedia North America.
"Knowing this - and not sure whether or not Mr. Platt had the resources to register the song title - Mr. Lynn used his own account on godaddy.com to registered 'Pantsontheground.com' and protect the domain for Mr. Platt.  He's been trying to reach him ever since his episode aired but his voicemail message box is currently full.  Regardless, it is there for Mr. Platt, and as soon as Mr. Lynn hears from him, he will transfer the rights accordingly ... and at no cost to Mr. Platt."