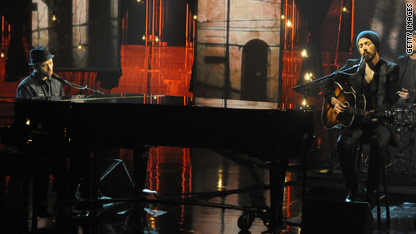 testing captions
Supporters of the "Hope for Haiti Now" telethon are continuing to show their philanthropy via downloads.
As of  Monday morning the "Hope for Haiti Now " album remained number one on the iTunes album chart and three singles from the album were in the top 20 songs. "Hallelujah" by Justin Timberlake and Matt Morris, featuring Charlie Sexton, ranked number 2, "Lean On Me" by Sheryl Crow, Kid Rock and Keith Urban was number 12 and "Breathless" by Taylor Swift was 19.
On the live show, Timberlake  was accompanied on guitar and vocals by Morris, a former co-star of his on "The Mickey Mouse Club."
The star-studded "Hope for Haiti Now" telethon included more than 100 celebrities and has raised a record-breaking $58 million with more donations continuing to pour in from those seeking to help the impoverished nation in the wake of a devastating earthquake.
According to a news release, donations to "Hope for Haiti" can still be made for the next six months via phone, Web, text messaging and regular mail.