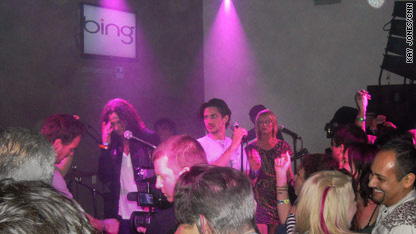 testing captions
Saturday night at Sundance equals great parties. No way to hit them all, but here's a sampling of the night:
10 p.m.: Just arrived at Harry O's for a very special Joan Jett performance. She is here to debut her movie, "The Runaways", starring Kristin Stewart and Dakota Fanning. Am on K-Stew lookout but no sightings.
10:30 p.m.: It's getting pretty crowded here, but still no sightings of any of the movie's stars.
10:50 p.m.: Joan Jett is taking the stage now. Lots of great looks in here tonight, including some 1980s rocker chic. She starts with Bad Reputation. We are in for a great show.
11:02 p.m.: Joan fashion update - black and gold sequined body suit and black Chuck Taylors. Amazing.
11:15 p.m.: Jett talking about "The Runaways," taking time out to thank the people who worked on the movie. She then segued into the first song she ever wrote, "You Drive Me Wild."
11:25 p.m.: Jett introduces Cherie Currie, who was in the "Runaways" with her, and Kristen Stewart and Dakota Fanning, who play them in the movie. My camera gets stuck in my jacket and I miss the brief photo op.
11:40 p.m.: Yes! My all time fave song: "I Love Rock n Roll." She doesn't do a 20 minute version. Cue sad face.
11:50 p.m.: Heading out. Gotta find our way down the mountain for another party
12:15 a.m.: Just arrived at the Bing sponsored party at Village at the Yard. The cast of "Rock of Ages" is on stage right now, singing some of the favorites from the show. I can't see them as I am still waiting... outside.... in the snow.
12:20 a.m.: Made it inside! Constantine Maroulis is leading the cast in "Don't Stop Believing," as the crowd sings along.
1 a.m.: The show is over. Constantine and gang have come out to the room to hang with the crowd. Can't get close enough to ask how their Sundance is going. I do overhear him say something of the effect of: "This is cool."
1:15 a.m.: NY socialite Tinsley Mortimer is hanging out at the bar.
1:30 a.m.: Boarding the Park City bus, which is free. Great, safe way to get around on a snowy night!!