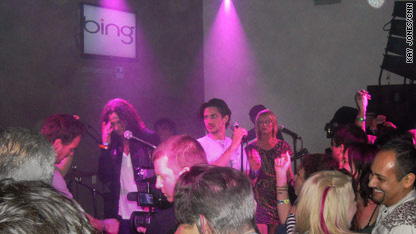 testing captions
Saturday night at Sundance equals great parties. No way to hit them all, but here's a sampling of the night:
10 p.m.: Just arrived at Harry O's for a very special Joan Jett performance. She is here to debut her movie, "The Runaways", starring Kristin Stewart and Dakota Fanning. Am on K-Stew lookout but no sightings.
10:30 p.m.: It's getting pretty crowded here, but still no sightings of any of the movie's stars.
10:50 p.m.: Joan Jett is taking the stage now. Lots of great looks in here tonight, including some 1980s rocker chic. She starts with Bad Reputation. We are in for a great show. FULL POST