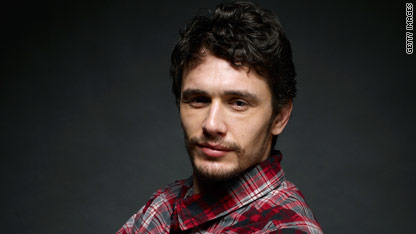 testing captions
In a recent episode of "30 Rock" actor James Franco guest starred as himself.  Franco pretended to be a man in love with a pillow emblazoned with a Japanese anime character.  In order to keep his secret safe his manager asks series regular, Jane Krakowski, who plays "Jenna" to be his "beard" aka fake girlfriend.
The storyline got me thinking.  I wonder how many actors out there are hiding their true sexual identity by being in pretend relationships. As luck would have it, my first red carpet assignment at the 2010 Sundance Film Festival was for the movie "Howl," starring James Franco.  It was the perfect opportunity to ask Franco about his take on actors coming out in Hollywood.
Franco: "Well, it's uuuuuuuuh, I mean, it's a big issue.  I don't know, I mean..(wipes head with palm and lets out a huge sigh)  You know, I guess if you're talking about you know, like, coming out about one's sexuality, you know, back in the day, in Harvey Milk's day the gay liberation movement was all about coming out, coming out, coming out.  I don't know if that's so necessary today.  You know, a lot of people believe it isn't.  
"If you want to come out, you know, if someone would want to come out I, I believe that he or she should be able to.  We see more gay roles in mainstream films, but the reverse isn't true.  It's like, okay now for straight actors to play gay roles, but, it's not quite, I don't think it's quite the same for gay actors to play straight roles.  And so that's, maybe, what inhibits a lot of people who are in the closet from coming out.  If we're talking about, you know being gay. If you're talking about body pillows?  Come out!  I don't think anybody will care. (laughter)"