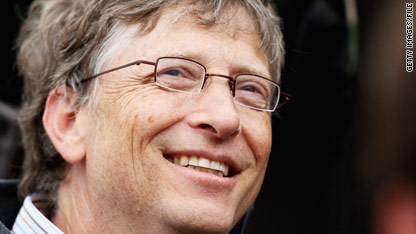 testing captions
Bill Gates appears briefly in the Sundance movie "Waiting for Superman," which is a documentary on the problems of America's public education system and public schools. 
The Bill and Melinda Gates Foundation gives millions every year to education related causes, which is why he is featured in the film.  The film is directed by Davis Guggenheim, who also directed "An Inconvenient Truth," which he premiered at the Sundance Film Festival. 
"Waiting for Superman" was the first film bought at Sundance this year.  It was bought by Paramount Pictures and will be released through its Paramount Vantage arm.  There is currently no theatrical release date set for the film.
I got to talk with Gates at a party following a premiere of the movie. Bill– he told me I could call him "Bill"– talked about the excitement he has for the film and how important it is that people understand what is going on with public schools in America.  He believes the way the schools are set up now works for adults, for unions, and for bureaucracy, but not for kids. And, that needs to change. 
Education is so important to Bill because America was once the leader in public education, he says.  He believes that if every child is given a great education they can reach their potential, but right now, especially in economically struggling areas that is not happening.  This is why his charitable  foundation gives almost everything to something education related. 
Bill also had Haiti on his mind.  He's been there several times and calls the situation there now a tragedy.  It was bad there before and it's even worse now.  His foundation gave 1.5 million dollars to the efforts going on there now. He felt tonight's telethon was fantastic.  He joked about the fact that John Legend who did the music in "Waiting for Superman" couldn't be at Sundance tonight because he was performing at the telethon in Los Angeles. 
Gates is not planning to go to Haiti himself in the near future because he doesn't want to get in the way of the doctors and nurses that they need right now.  He says the country needs crane operators and people who can heal wounds, but he will go back one day. He said America is the most generous country in the world, but we could do a better job of sustaining it. 
Bill ended the interview by giving advice to young people who want to make it the way he did.  This advice includes: reading books, using the internet to watch free online lectures, to learn about the world, to learn about technology, to get involved and to educate yourself.