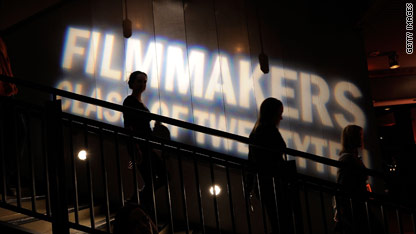 testing captions
DJs are dusting off their turntables and loading up their iPods, film stars are figuring out what mukluks will stand up to a night of dancing, and open bars are stocking up on liquor.
The Sundance Film Festival is, of course, an opportunity for independent film to shine, but it is also the chance for top actors, actresses, filmmakers and all the folks who help independent films get made to let their hair down and have some fun in the mountains. The festival is a chance to throw some really great parties, most of which are sponsored by companies who have very little to do with the filmmaking process at all.
Entertainment Weekly magazine is kicking off the really big festivities this year with their opening weekend bash at the Legacy Lodge on Saturday night. The magazine and official sponsor of the festival is  expecting the likes of P. Diddy, Sandra Oh, Alan Rickman and Common.

Also on Saturday night the cast of the Broadway musical dedicated to '90s rock, "Rock of Ages," will perform selections from the show at the after-parties for two films, "Hesher" and "Sympathy for Delicious." "Hesher" stars Natalie Portman and Joseph Gordon Levitt, along with "Sympathy for Delicious" stars Mark Ruffalo, Laura Linney and Orlando Bloom, are expected to be in attendance to hear former "American Idol" contestant turned Broadway darling Constantine Maroulis croon covers of Bon Jovi and Journey.
Designer Kenneth Cole and GenArt will honor longtime independent film staples Juliette Lewis, Michael Shannon, Melissa Leo and Diego Luna at the Kenneth Cole Vintage Black party on Saturday night with guests Marisa Tomei, Malin Akerman, John Legend, Chris Cooper, Tracy Morgan, Reggie Miller and Terrell Owens.
Thankfully, no star will go hungry amidst all the rubbing of elbows and consumption of free champagne. Top chefs Phillipe Chow, Larry Greenwood, Katsuya Uechi and Steven Fretz will be feeding the film world's elite at dinner parties hosted by the Bing Supper Club for four nights of the festival. The club, sponsored by the Microsoft search engine Bing, will play host to cast dinner parties for "How I Met Your Mother" star Josh Radnor's directorial debut, "Happythankyoumoreplease," and Diego Luna's "Abel."
"The Bing Supper Club provides a totally private, intimate setting for the cast and producers to entertain the buyers, distributors and select press in a meaningful way, and have the business discussions about selling and promoting their films – this is, after all, what they are here to do," said Supper Club creator Ryan Heil of LIVEStyle Entertainment.
It has become fairly standard practice at the annual festival for nightclub and bar owners from New York City and Los Angeles to bring their popular brands out to the festival, setting up shop in spaces that for the rest of the year are restaurants, yoga studios or ski lodges - and for one week are transformed with white couches, strobes lights, speakers and in the case of the satellite location for the New York City lounge Gold Bar, hundreds of gold-painted skulls.
On Sunday night, Gold Bar will fete the feature film "Enter the Void," which has already won bragging rights as the first film of the festival to land a distribution deal. The guest list for the event at the Sky Lodge includes Joan Jett and her on-screen alter-ego in the film "The Runaways,"  "Twilight" star Kristen Stewart, as well as Dakota Fanning, Keira Knightley, Orlando Bloom and "Into the Void" director Gaspar Noe.
"What's unique about Gold Bar in New York is its decadent elegance. We are going to interpret that signature look for Park City," said the lounge's co-owner Robert McKinley. "It will look, smell and sound like the original."
Also on Sunday night, Variety magazine plans to celebrate the folks who actually get films made - the directors - with their "10 Directors to Watch" party outside of the melee of Park City in Deer Valley. Among those being honored are actor-turned first-time director Philip Seymour Hoffman, J. Blakeson, Scott Cooper and designer-turned-director Tom Ford.
Even further afield on Sunday night, fashion entrepreneur Marc Ecko has rented a house high in the mountains above Park City where he will invite a select group of actors, sports stars and friends to take part in his "Alice in Wonderland"-themed party.
Las Vegas nightclub Tao has taken over the entire Town Lift and on Monday night the space will play host to one of the most anticipated after-parties of the festival for the film "HolyRollers," starring "The Hangover's" Justin Bartha and "Adventureland's" Jesse Eisenberg.
Harry O's restaurant, nightclub and music venue has long been a Park City staple and during the festival it pulls out all stops. Friday night rapper NAS will perform and on Saturday rockers Joan Jett and the Black Hearts will play for an intimate audience. During the day on Saturday and Sunday sports buffs can join ESPN and a sprinkling of sports stars at the Harry O's lounge for the AFC and NFC championship games.