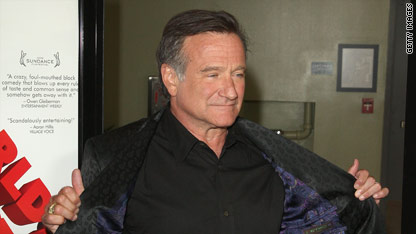 testing captions
Nearing the end of his NBC run, Conan O'Brien has opted to let his guests go wild while he rings up a hefty bill for the network.
As a guest on Thursday night, Robin Williams upped the ante for bad behavior by dedicating an expletive-filled song to NBC, pretending to urinate on the stage and giving the network the middle finger, several times.
The refrain of Williams' barely printable Irish ditty was "(Expletive) the (expletives) that can't take a joke." Williams is apparently on Team Coco.
Conan is also looking to increase the price tag on his final comedy sketches that he can't take with him.
"Until NBC yanks us off the air we can pretty much do whatever we want," O'Brien said Thursday night. "We can do whatever we want and they have to pay for it. So for the rest of the week we are going to introduce new comedy bits that aren't so much funny as they are crazy expensive."
On Thursday night's show O'Brien bought Kentucky Derby winner "Mine That Bird" put him in a mink Snuggie and played clips of restricted NFL football all at a cost of $4.8 million to the network.