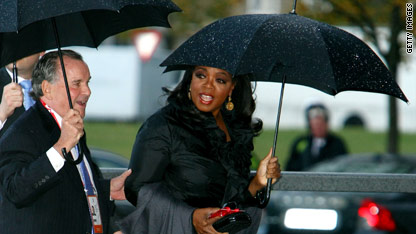 testing captions
Biographer Kitty Kelley is getting set to release her unauthorized biography of the Queen of all Media, Oprah Winfrey.
The 544-page book, "Oprah: A Biography," will be released on April 13, with a first printing of 500,000 copies.  Kelley's publisher Crown claims the writer has spent three years researching the tome and conducted 850 interviews with sources, some of whom have never spoken before about Winfrey for publication.
Kitty Kelley is no stranger to tackling public figures. Her previous books have taken on the Bush family, Princess Diana, Frank Sinatra and Elizabeth Taylor.
Camp Oprah had little to say on the subject, telling CNN that Oprah hasn't seen the book in advance of publication.
 "Oprah hasn't participated in or read Kitty Kelley's book, so she is unable to comment," said Winfrey spokeswoman Lisa Halliday.