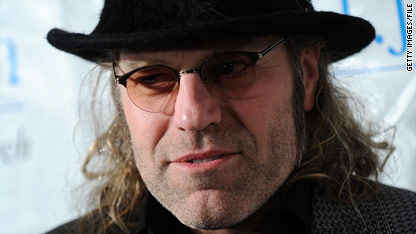 testing captions
Country star "Big Kenny" Alphin is not just blogging from Haiti, he is helping.
"I don't want to leave one stone unturned," he said. "Not one."
The singer is desperately seeking his friend Walt Ratterman who was at the now collapsed Hotel Montana in Port-au-Prince during the earthquake in Haiti. Big Kenny says Ratterman's wife is convinced he is still alive and he wants do whatever he has to in order to find his friend.
He is also looking, he said, for Diane Caves, 31, who works for the Centers for Disease Control. Big Kenny said he received a request from former Tennessee senator Bill Frist regarding Caves, who was from Oak Ridge, Tennessee.
"They said she's the last unaccounted-for government employee in Haiti," said Big Kenny, who added that Frist, who is also in Haiti, has treated more than 30 patients.
The country star crossed into Haiti from the Dominican Republic on Wednesday with a group of doctors to help lend a hand. Several of the doctors are anesthesiologists, Big Kenny said, whose services are much in demand for the many victims who require surgery.
"There are lots of people who need amputations here," Big Kenny said quietly. "Gangrene has set in for some of these folks and it's not pretty."
He said he's been overwhelmed by what he has witnessed in the devastated country.
"I've never seen anything like it," Big Kenny said. "Floors and floors of buildings just pancaked. We had a 15-year-old boy come up to us who said he was searching for food and water for his family."
He said he's met so many people who are working tirelessly to help, such as Dr. Mark Pinnard, a Haitian-born doctor who was educated in the United States and who returned to his country to open a clinic.
Big Kenny said he was awed by how the world has pulled together to help the tiny nation. The people of Haiti have consistently expressed to him how grateful they are, he said, even as they remain fearful about continued aftershocks.
As he made his way down a crowded Haitian street, he looked out of the car window and reflected on what he saw.
"There are so many collapsed buildings and then every once in awhile you see one damaged, but still standing," he said. "There are people walking by, just trying to go about their lives as best they can."