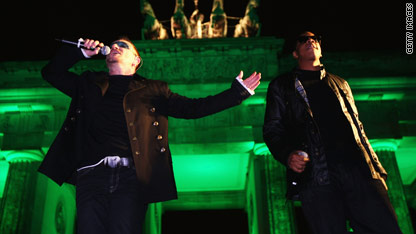 testing captions
U2, Jay-Z and producer Swizz Beatz have recorded a song together to raise money for victims devastated by the Haiti earthquake.
U2 guitarist, The Edge, told Irish radio station 2FM that the song has already been finished and recorded after Swizz Beatz reached out to the band with the idea.
It is not clear whether the single will be released or whether the collaborators plan to debut it during Friday night's worldwide broadcast of the "Hope for Haiti" telethon.
Both Jay-Z and U2, along with Rihanna are scheduled to perform together in London during the live telecast hosted by George Clooney.
This won't be the first time the rockers and hip-hop heavyweight have joined forces. Jay-Z performed with the Irish rock band during several of the group's tour dates last year.