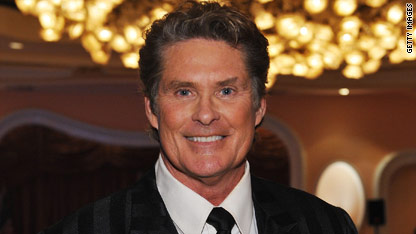 testing captions
Thank goodness for A&E.
The docu-soap channel has found a way to fill the hole David Hasselhoff left in our hearts when he made his exit from "America's Got Talent."
Instead of allowing Hoffians to wallow in despair, A&E has cooked up a new reality series for "the most watched TV star in the world" (according to the Guinness Book of World Records, so says the press release). Those 30-plus years on television add up, you know.
Still being known as "The Untitled David Hasselhoff Project," those ten half-hour episodes will follow The Hoff's ups and downs as a single father to two teenage daughters as well as the ins and outs of his "multiple business and entertainment endeavors."
It's also a chance for his daughters to get some screen time (and hopefully a record deal). Taylor-Ann, 19, is currently a communications major at the University of Arizona, and Hayley, 17, is a top model for Torrid who also wants to act. Both girls aspire to be singers, and their dad has pledged to help them get there.
"It's the dream of every parent to be able to help their children succeed," Hasselhoff said. "I told the girls that I would help them open the door when they are ready, but they would have to walk through it on their own. This is their time and I am excited to be a part of it by partnering with A&E and Fremantle Media on this new series."
There isn't a definitive air date yet, but it should debut sometime in 2010.