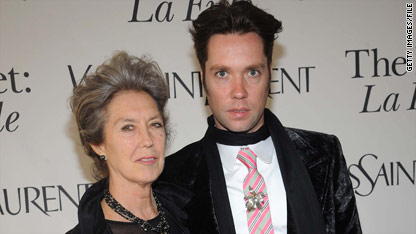 testing captions
The literary and music worlds lost three respected members of their communities earlier this week.
Kate McGarrigle, who blended her voice with sister Anna on such songs as "Heart Like a Wheel" and "Work Song" as part of the duo Kate and Anna McGarrigle, died Tuesday. She was 63.
McGarrigle was the mother of singers Rufus Wainwright and Martha Wainwright, and was once married to singer Loudon Wainwright III.
On his Web site, Rufus Wainwright expressed grief in his mother's passing, and pride in her accomplishments:
"When inevitably I read today in the papers that my mother lost her battle with cancer last night, I am filled with an immense desire to add that this battle, though lost, was tremendously fruitful during these last three and a half years of her life," he wrote.
The McGarrigle sisters first gained fame in the United States when Linda Ronstadt covered "Heart Like a Wheel" on her 1974 album of the same name. The album went to No. 1 and the McGarrigles, already well known in their native Canada, were signed to an American recording contract.
Their first LP, "Kate and Anna McGarrigle" - which contained the heartbreakingly gorgeous "Wheel" (written by Anna), Loudon Wainwright's "Swimming Song" and the traditional "Travellin' on for Jesus" - was released in 1975.
Bestselling and award-winning author Robert B. Parker also died on Tuesday, at the age of 77.
His Spenser book series spurred the popular television series "Spenser for Hire" starring Robert Urich, which ran for four years on ABC. Actor Joe Mantegna starred in three Spenser television movies produced by A&E.
Known as the dean of American crime fiction, Parker also penned two other bestselling series featuring Massachusetts police chief Jesse Stone and Boston private detective Sunny Randall as well as a few westerns and some young adult fiction.
"Bob wrote five pages a day every day but Sunday (and some holidays or vacations with his wife Joan) every day of his adult life," Helen Brann, Parker's literary agent of 37 years, said in a statement. "He was very clear about it.  No more and no less than five pages."
A press release from his publisher, G.P. Putnam's Sons, said Parker dedicated every book he wrote to his beloved wife, Joan. The couple was married for 53 years and had two sons.
"What mattered most to Bob were his family and his writing, and those were the only things that he needed to be happy," said Christine Pepe, executive editor of G. P. Putnam's Sons and Parker's longtime editor. "He will be deeply missed by all us at Putnam, and by his fans everywhere."
Erich Segal, author of the book "Love Story," died Sunday in London. He was 72.
Segal, a former Yale professor, also wrote the screenplay for the film of the same name of two tragically star-crossed Ivy League students played by Ryan O'Neal and Ali McGraw. The 1970 movie became a pop culture touchstone and spurred the catchphrase "Love means never having to say you're sorry."
The success of the film helped make Segal a star, with appearances on television and an Academy Award nomination for best screenplay.
The writer told the Washington Post in 1970 that his new-found status buoyed the popularity of his classes on classical civilization at Yale, where he filled a 600-seat classroom.
"I'm kind of a folk hero there - the closest thing they have to a Beatle," he said at the time.
Interestingly enough, Segal worked with the Beatles, writing the film "Yellow Submarine." He also wrote several other bestsellers, including the "Love Story" sequel "Oliver's Story," which also became a movie of the same name, and "The Class."