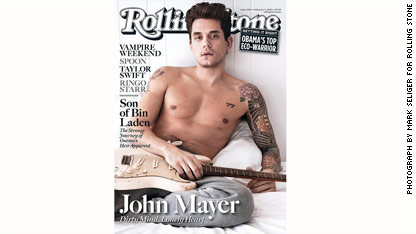 testing captions
The soulful and evocative John Mayer sat down for an interesting interview with Rolling Stone magazine, spilling the beans about nearly everything you've never even knew you wanted to know.
On relationships:
John Mayer wants a girlfriend – like, a real life-partner one, he told Rolling Stone. The problem is, when he meets a girl, they're all, "But you're John Mayer!" Which means he's stuck with girls he's already been with. Poor John.
Ladies, if you're not overcome by his John Mayer-ness and think you'd be a good match, here's what he's looking for:
"You need to have them be able to go toe-to-toe with you intellectually," he told the magazine, among other things too explicit to post here.

On the inspiration for "Your Body is a Wonderland"
When you think of John Mayer, you inevitably think of this song. The inspiration may have a husband and kids now, but she and Mayer still keep up occasional communication.
In a recent email, she described what it was like to hear Mayer on the radio. "She said she smiled. I started crying as I wrote her back. This woman is precious…She carries with her information of this 14-year-old boy she knew. She knows the truth."
On relationships with celebrities:
In the eyes of the media, John Mayer has had two great loves: Jessica Simpson and Jennifer Aniston.
With Simpson, he said, he couldn't handle all of the media attention in his almost-year long relationship. "I got so many tension headaches from magazine covers it felt like a threat," he explained.
His breakup with Aniston, he said, was one of the worst times of his life.
"I have this weird feeling, a pride thing, for the people I've had relationships with. What would I be saying to Jen, who I think is [expletive] fantastic, if I said to her, 'I don't dislike you. In fact, I like you extremely well,' " Mayer told the magazine. "But I have to back out of this because it doesn't arc over the horizon. This is not where I see myself for the rest of my life, this is not my ideal destiny."

On his sexuality:
"I don't care about anything other than energy," Mayer told RS. And while he's never slept with a man, he does say that he gets why people do. "I've seen pictures of men on the Internet that are sexier than pictures of most women."
To read the rest of the interview, look for Rolling Stone's latest issue, out February 4, 2010.