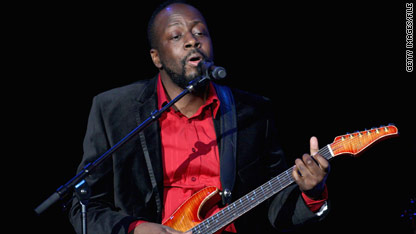 testing captions
The following are musician Wyclef Jean's comments in response to accusations leveled against him and his charity, Yele Haiti. The remarks were delivered during a press conference held Monday in New York City:

Good afternoon ladies and gentlemen of the press, and thank you for coming.
I am here today to relay firsthand what my wife Claudinette and I experienced when we were on the ground in Port-au-Prince for 3 days following the earthquake in Haiti. I also want to tell you about the relief efforts underway by my organization, Yéle Haiti, and to address the accusations against both me and the organization. And finally, I am going to put forward a plan to be considered for the second phase of the international community's combined relief operation.
FIRST HAND REPORT
Claudinette and I, along with my cousin Jerry Duplessis, arrived in Port-au-Prince on last Wednesday and I am now going to show you some photos from that trip and give you a sense of what experienced.
YELE'S RELIEF EFFORTS
Now I would like to talk about what Yéle Haiti is doing now as part of the emergency relief efforts. The president of the organization has already given you some background on the work we have been doing for the last five years, so I am going to focus on what we are doing right now and are planning to do in the coming weeks.
Right now we are focusing on getting emergency supplies to Haiti and getting those supplies distributed safely to those in need, along with a communications plan with our corporate partner Trilogy International.
In this effort we have reached out to partner organizations with whom we have worked before such as the United Nations Office of the Special Envoy, the Clinton Global Initiative, the World Food Programme, the United Nations operation in Haiti, the Pan American Development Foundation and Airline Ambassadors. New partners have been enlisted that include AmeriCares and the Red Cross. We have enlisted the help of Yéle's three most important corporate partners – Trilogy International, owners of the Voilà phone carrier in Haiti, Western Union and Timberland. New corporate partnerships have been struck with Federal Express, Delta Airlines, T-Mobile and Starbucks.
In all our relief work we are guided by both President Preval and Prime Minister Bellerive on the Haitian side, and the White House and the military on the US side.
Now to specifics.
SUPPLIES & AIRLIFTS
First the emergency supplies. This falls into two categories – getting the supplies and airlifting them to Haiti. We have received donations of food, medical supplies, ambulances, satellite phones and other items with more pouring in all the time. We have also set up a team to secure planes for shipping these supplies down to Haiti as well as helping to facilitate other organizations getting their supplies on planes. For the former we have been given planes by Federal Express and Delta Airlines. For the latter we are working with Airline Ambassadors who provide a clearinghouse service to connect relief organizations with flights.
The first plane we helped to facilitate landed in Haiti on Sunday with 144 doctors and nurses and a range of medical supplies.
Some time this week the first Federal Express and Delta flights will carry supplies from Yéle and some of our partners.
DISTRIBUTION
When I was in Haiti I was working with the Yéle team on the ground to greatly expand our numbers so that we will be able to provide security for relief trucks after they leave  the airport compound and are going to various distribution sites or warehouse facilities.
Here we are not trying to suggest that we are replacing the US military, but the reality is that when trucks leave the security of the airport that are frequently attacked or at the very least overwhelmed by desperate throngs of people.
The first deployment of the Yéle security team will be later this week, and this is a service we will be providing to a range of non-profit organizations.
COMMUNICATIONS
Trilogy International Partners, through their telecommunications subsidiary, Voilà, has been a corporate partner of Yéle Haiti since we launched in 2005. We have been working closely with them as they put together a comprehensive emergency communications plan.
Trilogy began this morning to offer free calls anywhere in the world to every citizen of Haiti through its Voilà Toupatou service. They are putting visible calling stands all over Port-au-Prince to facilitate this enormous effort.
Trilogy has committed to provide over 20,000 phones and service, at no charge, to relief agencies who are coming into the country to help the Haitian people. They are delivering hundreds of phones daily to government agencies supporting the efforts on the ground. And starting today they will be giving all subscribers complimentary call credits to reach their families.
In this effort Trilogy has received significant support from T-Mobile, who have committed over 10,000 phones to support relief efforts as well as providing trucks, generators, and portable cell sites being readied as we speak to be loaded on a Navy relief supply ship.
SUNDAY MEALS
The Haitian people are churchgoers who have always observed the Sabbath and traditionally have a family meal on Sunday. In the midst of this tragedy, Yéle is going to begin serving a Sunday meal in key neighborhoods of Port-au-Prince. We are enlisting local Haitian associations and community leaders in this effort, providing both employment for these people along with a hot meal to at least some of those displaced from their homes.
We will announce on our website www.yele.org when this operation will begin.
ACCUSATIONS ABOUT ME AND Yéle
It is a sad fact that in the midst of this tragedy I have had to take the time to answer accusations that I benefited from Yele.
When I started the charity with my own funds, I wanted to make sure that Yéle would not just be a foundation in the US but a real NGO on the ground in Haiti. We had to go that route in order to be effective, but let me say that setting up as an NGO was very challenging. Did we make mistakes, YES. Did I ever use any of Yéle's money for personal benefit, NO. Yéle's books are open and transparent, and we have been a clean bill of health by an external auditor every year since we started.
As he mentioned, Hugh Locke, the president of Yéle, is going to stay on to go into as much detail as you would like on the specific issues raised but I am not going to do that here.
The other thing I wanted to address is the accusation that Yéle is a small organization and that we don't have the capacity to do the job.
Let me address this last point. Yéle has always been a movement and not just an organization. The difference is that the mission of an organization is implemented by paid staff and the volunteers they enlist. The mission of Yéle is implemented by thousands upon thousands of people in the poorest neighborhoods throughout Haiti who will tell you that Yéle is their organization. These are the Yéle troops who have always been part of carrying out Yéle's mission and who are being enlisted in the recovery efforts now.
PLAN FOR PHASE TWO OF RELIEF EFFORTS
Along with all Haitians, I am deeply grateful to the United States and other governments, the United Nations and other international institutions, the relief organizations and citizens of every walk of life around the world who have stepped up to help Haiti in its time of greatest need.
It is against the backdrop of this tremendous outpouring of support and good will that I have been asked by the President of Haiti to put forward the following plan for consideration.
Haiti has suffered a tragedy almost beyond comprehension, and we call out not just to governments and organizations but to the human family to help your brother and sisters in this small country at their time of greatest need. Port-au-Prince has become a morgue. Street by street, neighborhood by neighborhood, the entire city is a festering mass of decomposing bodies – both on the streets and still under collapsed buildings. The city must be evacuated and on behalf of my people I am calling for a Marshall Plan for Haiti that will create tent cities that will need to serve as communities for the next few years as we rebuild.
What I am calling for is not the usual response to housing a population displaced by a natural disaster. What I am calling for is a plan that takes into account the nature of the population of a city which has grown in recent years mainly because of people coming from all over the country to seek a better life. We are proposing that instead of creating tent cities in the vicinity of Port-au-Prince that instead the emphasis should be on creating tent cities disbursed around the country in order to facilitate people evacuating from the capital to the communities they came from or where they still have family.
This will have two main advantages. First, it will avoid creating permanent ghettos in Port-au-Prince because there is no commerce left in the city to sustain livelihoods and it will a long time before that is established again. Second, those being evacuated will have a better chance of being absorbed into the community life and commerce of an existing cities and towns.
An evacuation of this kind and on this scale is a huge undertaking that can only be accomplished by the collective efforts of the government of Haiti and all those coming to the aid of Haiti as we speak.
In conclusion I would just like to say once more on behalf of the Haitian people, both in our home country and the diaspora around the world, that we are deeply touched by the world's response to this, the greatest tragedy we have faced since our country was founded in 1804. We call on the world to begin to channel your support behind a mass evacuation from the morgue that is now Port-au-Prince and to create tent cities in communities around the country for the displaced population of the capital to return to their roots and begin to start new lives in communities that are better equipped to sustain them than the sad remnants of our once proud Port-au-Prince.
I do not presume to know how to accomplish this task, but I do want to offer my life and service to this great mission.