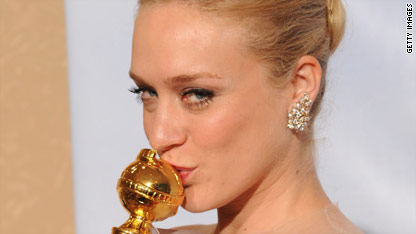 testing captions
For some reason, the questions backstage at the Golden Globes have been stuck on Tiger Woods' love life.
Chloe Sevigny, who snagged the award for best actress in a supporting role in a television series, was asked to comment on Woods' situation." You know, since she plays a wife who shares her husband on "Big Love," she might have a word or two to say.
Or not.
"Ouch!" the actress responded. Although she declined to comment on the golfer's fall from grace, she did note that on "Big Love," the situation is a bit different. On the series, all of the wives are aware of each other and actually want to be involved in the marriage.