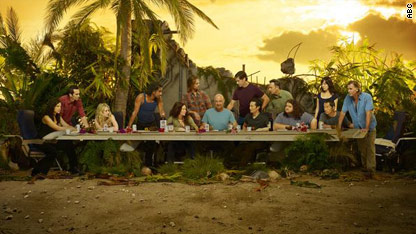 testing captions
ABC held its Television Critics Association Tour last week in Pasadena, California. It paraded a number of talent around to promote its upcoming and current shows, but no one seemed to take any interest in anything ABC was serving up except for the show that has a cult following. I'm talking about "LOST."
The final season of "LOST" kicks off next month and ends in May. And for the months that it's been off the air fans have gone into overdrive trying to figure out the motives and mysteries of "LOST."
So when I learned that I would be interviewing a few of the actors of "LOST" - Emile de Ravin, Josh Holloway, Evangine Lilly, Jorge Garcia, Michael Emerson, Daniel Dae Kim and Terry O'Quinn - I thought I would try and get LOTS of questions answered.
These were questions I had and questions my co-workers Mary Loynes and Rick Taber gave me. Questions like: "What happened to the children?"; "Will Walt come back this season?";  "Is Claire possessed?"; "Why was Libby in the mental hospital with Hurley?";  "Do they think the fans will be satisfied with the final season ending?" and "Are they moving from Hawaii now that the show is over?"  So I went straight to the sources and here's what they told me:
Michael Emerson who plays Ben Linus: "Honestly we don't know an episode until they give us the script and we don't get them until a day before we shoot them. We won't see that last script until April. I'm happy to be in the dark as an actor. It's important that there are mysteries. The landscape of the entire show is a set of mysteries and when those mysteries explode there is not much there."
Terry O'Quinn who plays John Locke: "In the 2-hour premiere it is revealed who Locke actually is. Although that's still kind of a mystery of who is that. But there's still a pretty big revelation there."
Jorge Garcia who plays Hugo 'Hurley' Reyes: "There's always going to be more to answer. I think some things are just going to have to be left as a mystery. But I think most of the big ones, you will have some sort of answer to. You'll know this is kind of what is going on here and this is what is going on there. There's no way we are ever going to satisfy everybody....Oh and this is Hurley's last season on 'LOST.'" (laughing)
Daniel Dae Kim who plays Jin Kwon: "I doubt very much that every loose end will get tied up because frankly it's like life. You know you look for answers to the big questions, but some things just get left by the wayside. But I think (the writers) I think they are pretty diligent and pretty conscious about answering the big questions and I'm pretty sure they will do that. I think you might see Charlie again sometime before the season is over. A lot of people who stopped watching after the first or second season will want to come back to see what happened to certain characters."
Emile de Ravin who plays Claire Littleton: "I'm pretty sure there will be stuff that is answered and people will be happy to know certain things. But I will say I come back in a rather unique manner and get to play around with my character "Claire" a little more.
Josh Holloway who plays James 'Sawyer' Ford: "I am going to change my underwear. (He laughs).
Evangeline Lilly who plays Kate Austen: "I'm doing something totally new this season. I'm not going to tell you what though. But it is very exciting. There is going to be a brand new version of Kate. I don't know if anyone else is gonna pick up on it, but in my mind it's very new and exciting."