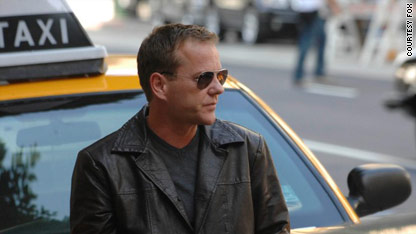 testing captions
You just knew when you saw Jack Bauer all snuggled on the couch with his adorable granddaughter, all healed from his exposure to bio-weapons and subsequent stem cell operation, that things were not going to go as planned.
In fact, Jack is about to have a terrible, horrible, no good, really bad day.
Fox's drama "24" returned for it's eighth season Sunday night with a cast of new characters and a new venue for the bad guys to blow up – New York City.
Jack is preparing for a move back to Los Angeles with his now domesticated daughter Kim where he will take a boring corporate security job and play family man. Of course as he gets packing, he is visited by a former informant (and he found him how?) who tells him President Omar Hassan of Kamistan is the target of a terrorist plot.
Hassan is also in NYC on the verge of sealing a groundbreaking peace treaty with President Allison Taylor (Cherry Jones as the best lady president ever!) at the United Nations.
President Hassan is played by "Slumdog Millionaire" sleaze-bag game show host Anil Kapoor with a supporting role provided by Kapoor's hair, a very large man-bouffant. Hassan is all about sealing the peace deal for his fictional Arab country, which seems to be a mixture of Palestine and Iran given the focus on nuclear weapons and a two-state solution.
But Hassan is also a ladies man and his life and this terror plot are complicated by his love affair with American journalist Meredith Reed (played by the fabulous Jennifer Westfeldt who is the real life girlfriend of Mad Men's "Don Draper," actor Jon Hamm).
Jack puts in a call to the new and improved CTU, which has prettier offices and better-looking staff than before. Even computer expert Chloe O'Brian has some new highlights.
New CTU honcho Brian Hastings is reluctant to believe Jack telling him, "I need more than your instinct here Mr. Bauer." No Mr. Hastings, Jack's instinct is pretty much all you need. Ever. Where've you been for seven seasons?
Newbie CTU agent Cole Ortiz (Freddie Prinze Jr.) is dispatched to pick up Jack and his informant. During the exchange the helicopter they are about to board is taken out by a lethal assassin killing the informant, but not before he spills the beans that someone has infiltrated Hassan's inner circle.
What follows includes a set-up, the introduction of Cole's sweetheart and Chloe's new boss, and a bad guy infiltrating the NYPD's United Nations security force.
I have to say that a 2-hour premiere, followed by another 2-hour premiere Monday night is just enough to suck me in for the season. It may be a bad day for Jack, but it will be a great ride for the rest of America.