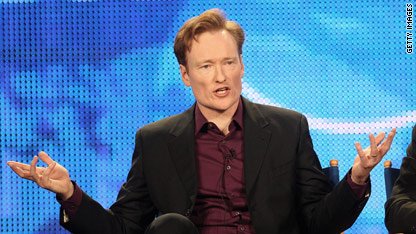 testing captions
Team Conan took their protests against NBC to the streets on Monday afternoon as around 100 people gathered outside of the network's studios at 30 Rockefeller Center in equal parts protest and support group.
"Hey, hey, ho, ho, Jay Leno has to go," a protester chanted from a penned off area on 49th street in Manhattan. "We want Coco the chin has got to go go."
The Conan O'Brien fans mobilized on the Facebook page "I'm with Coco," which has more than 300,000 fans and is run by Los Angeles artist Mike Mitchell and some friends.
Stand-up comedian Thomas J. Kelly, 33, who interned at Conan O'Brien's show 12-years ago was leading the crowd in their cheers, chants and songs. "I'm a fan of Jay Leno too," he said, but frankly what they are doing to Conan at NBC is not nice."
Since Monday was Martin Luther King, Jr. Day, plenty of people, like Chamam Perkovits, 24, had the day off work to come out and show support for the host. Perkovits carried a homemade sign that read, "End this Conan-Traversy."
"People have told me all my life that I look like Conan O'Brien and I think that I will get more girls if I look like a host of the 'Tonight Show' than a guy with a show at 12:05," Perkovits joked. "I also love Conan."
O'Brien has typically done best in the ratings with young people under the age of 35, but 54-year-old actress Kelly Lincoln traveled to midtown Manhattan from New Jersey to show her support. Lincoln was wearing a Conan t-shirt and carried a poster designed by Mitchell that has become the unofficial placard of the O'Brien fight on the Internet that read, "I'm With Coco," and featured the red-haired comedian in front of an American flag.
"I feel like this is more than about the jobs now. This just stinks," Lincoln said, as she invited passersby, mainly tourists, to join her in the "Cone Zone," a penned off area created by security for the protest. "I think all the good will people used to have for NBC is now gone."