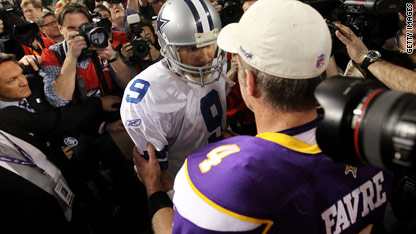 testing captions
Following their Sunday night win, Brett Favre and the Minnesota Vikings' spirits were high and their pants were on the ground. Not literally of course, but in the celebratory sense.
After the men in purple knocked Tony Romo and the Dallas Cowboys out of contention for the Super Bowl, quarterback Favre led his team in a version of General Larry Platt's "American Idol" viral hit "Pants on the Ground" in the locker room.
The song was caught on camera and has now become a viral hit of its own. Favre, the 40-year-old comeback kid, even turned his hat sideways when the song required it.