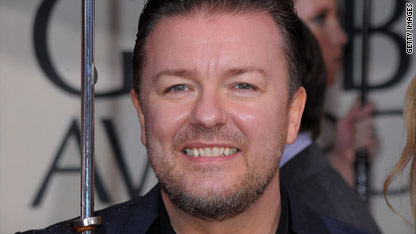 testing captions
With just a few hours until show time, Golden Globes host Ricky Gervais isn't feeling so hot.
"I'm a bit stuffy with a bit of a temperature," the "Office" creator told CNN. "It's raining, I'd rather be at home in my pants eating chocolates and getting drunk."
But Ricky couldn't shirk his duties even if he wanted to - "they've paid me and I've spent it, so I've got to do it now," Gervais said.
When asked what he had in store for the night, the host looked a bit puzzled.
"What do you mean preparing," the British actor asked. "Should I have done some preparing?"
Whatever tricks Gervais has up his sleeve, they're sure to be hilarious.