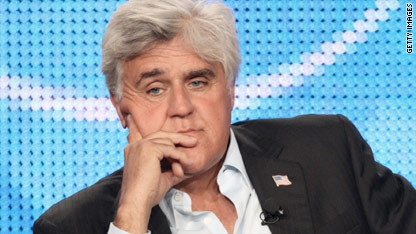 testing captions
Jay Leno opened his monologue on "The Jay Leno Show" still making cracks about his own network. (
Conan O'Brien got in plenty of digs, too.
) Check the transcript:
"Good news from Afghanistan - critics of the war have stopped referring to it as "another Vietnam."  They are not calling it that anymore.  The bad news – they're now calling it "another NBC."
Welcome to NBC.  America's most dysfunctional TV family. Thank you very much.
You thought the Gosselins were screwed up. Oh my God.
Nobody knows what is going on. Conan O'Brien, understandable, is very upset. He had a statement in the paper yesterday. Conan said NBC only gave him seven months to make his show work. When I heard that…seven months! How did he get that deal? We only got four! Who's his agent? Get me that guy. I'll take seven.
All the late night hosts are having great fun with this debacle. Last night Jimmy Kimmel did his show dressed up as me. Show that clip. I was going to come out dressed as Jimmy Kimmel…Put Jimmy's picture up there. But I realized I do not have enough black shoe polish here at NBC to get my hair that dark.