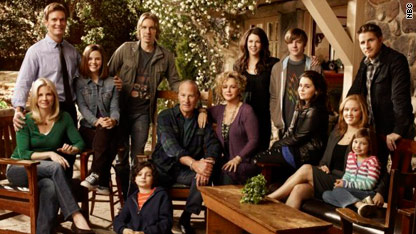 testing captions
"The Jay Leno Show" as we know it will be kicked back to late night once the Winter Olympics start, and although NBC doesn't know much right now, they at least know how they're going to fill those five vacant hours at 10 p.m.
It'll mainly be a lot of "Law & Order," as everyone predicted, but NBC also has a few new curveballs to throw in.
New drama series "Parenthood," based on the 1989 comedy-drama with Steve Martin, premieres Tuesday, March 2, heralding the return of Lauren Graham, aka Lorelai from "Gilmore Girls," to prime time. The hour-long show will be followed by Jerry Seinfeld's new venture, "The Marriage Ref," pitched as a "comedy panel series about marriage" (read: "Seinfeld" meets "Wife Swap"). A sneak preview will air after the Closing Ceremony for the Winter Olympics, and the show will officially start on March 4 at 10 p.m.
Lisa Kudrow is making a return to her former network home on a show called "Who Do You Think You Are," which lets you get inside the family history of celebrities. No, really – they've partnered with Ancestry.com to pull this off. On top of Kudrow, there's Spike Lee, Sarah Jessica Parker, Susan Sarandon and Matthew Broderick to look forward to.
"Minute to Win It," a new reality series, enters the Sunday night line up at 8 p.m. starting March 14.
Here's the breakdown of the post-Olympics schedule; all times are EST, and new shows are in upper case.
MONDAYS
8-9 p.m. – "Chuck"
9-10 p.m. – "Trauma" (beginning March 8 )
10-11 p.m. –"Law & Order" (returns March 1 with two-hour episode, 9-11 p.m. (ET); resumes in regular time slot March 8 )
TUESDAYS
8-10 p.m. – "The Biggest Loser"
10-11 p.m. – "PARENTHOOD" (premieres March 2)
WEDNESDAYS
8-9 p.m. – "Mercy"
9-10 p.m. – "Law & Order: Special Victims Unit" (encores beginning March 3)
10-11 p.m. – "Law & Order: Special Victims Unit" (originals beginning March 3)
THURSDAYS
8-8:30 p.m. – "Community"
8:30-9 p.m. – "Parks and Recreation"
9-9:30 p.m. – "The Office"
9:30-10 p.m. – "30 Rock"
10-11 p.m. – "THE MARRIAGE REF" (premieres March 4; sneak preview February 28 )
FRIDAYS
8-9 p.m. – "WHO DO YOU THINK YOU ARE?" (premieres March 5; "Friday Night Lights" returns on April 30)
9-11 p.m. – "Dateline NBC" (begins March 5)
SATURDAYS (all beginning March 6)
8-9 p.m. – "The Biggest Loser" (encore episode) 9-10 p.m. – "Law & Order" (encore episode)
10-11 p.m. – "Law & Order: Special Victims Unit" (encore episode)
SUNDAYS (all beginning March 14)
7-8 p.m. – "Dateline NBC"
8-9 p.m. – "MINUTE TO WIN IT" (premieres March 14)
9-11 p.m. – "The Celebrity Apprentice" (season premiere March 14)