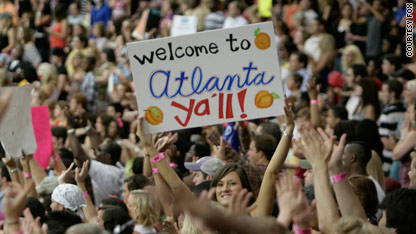 testing captions
"American Idol" was all about the comedy Wednesday night.
Sure, there was talent found at the Atlanta auditions, but the highlight of the evening was someone who left the judges in stitches despite having no shot at the title.
A 62-year-old who goes by the name "General" Larry Platt sang an original composition titled "Pants on the Ground." The lyrics – "Pants on the ground, pants on the ground. Looking like a fool with your pants on the ground" – had even guest judge Mary J. Blige wiping away tears of amusement.
Platt is well beyond the age limit for contestants, but I predict that "Pants on the Ground" will be the new "Tardy for the Party."  The video of his performance is already a hit on YouTube.
And the General wasn't the only one to amuse.
The winner of my "WTH Award" is Antonio "Skii Bo Ski" Wheeler from Orlando, FL, who auditioned in what appeared to be a bowling shirt with shiny, iron-on letters misspelling his moniker.
He made it through to Hollywood, but he's going to have to lose his "I'm Skii Bo Ski baby" routine if he wants to be taken seriously.
Not as funny was 20-year-old Lamar Royal's version of Seal's "Kiss from a Rose" that was as painful to hear as it was to watch.
He quickly went from "Idol" hopeful to scary dude as he alternated between apparently trying to either intimidate the judges into sending him through by cursing them out or wow them with the opening "La, la, la, la, la, la" from the Stevie Wonder classic "Mon Cherie Amour" before security escorted him out.
The incident was rendered slightly amusing given that Royal's audition came right after 25-year old police officer Bryan Walker who you half expected to see return to the room to place Royal in cuffs. Walker had a decided "Clay Aiken fake out" moment where his look didn't at all match his soulful version of "Superstar.