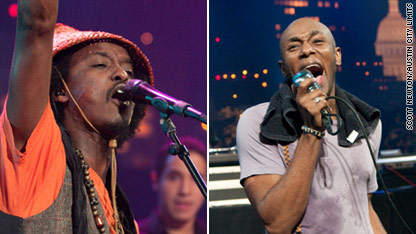 testing captions
"Austin City Limits" has long wanted to kick open its doors to hip-hop, but the reckless messages embraced by some rappers made the program's producers hesitant.
But Saturday, for the first time ever, the long-running PBS music showcase will devote its entire hour-long episode to two of hip-hop's most talented acts: Brooklyn's Mos Def and Somalian rhymesmith K'NAAN.
"I wasn't sure how they or any hip-hoppers would react," Terry Lickona, the series' executive producer, told me this week. "I was humbled that Mos and K'NAAN were so quick to accept."
Lickona, who has been with the show for 32 of its 35 years, said he was impressed by both artists' rich music and that they use "their music not just to express themselves, but to make a statement about the world."
He said he also was impressed that Mos Def recognized so many of the photos hanging on the dressing room wall – past "ACL" acts ranging from country crooner Loretta Lynn to choral rockers Polyphonic Spree.
One of the hurdles to staging a hip-hop show, Lickona said, was the language, violence and misogyny portrayed in many mainstream rappers' songs. Lickona said he's aware responsible lyricists abound ("ACL" has reached out to The Roots and Erykah Badu in the past, and hip-hop hybrid Gnarls Barkley played in 2008), but booking a hip-hop artist who jibes with the tastes of the show's audience has posed problems.
Mos Def and K'NAAN played at the Austin City Limits Music Festival in October, and Lickona called it "serendipity" that the two had the time and desire to record studio sets after their festival gigs.
It might seem ironic that the show recorded its first hip-hop episode on the same day that the Rock and Roll Hall of Fame declared "Austin City Limits" a historic landmark, but Lickona said the show seeks all flavors of music, especially when the artist can "articulate about the state of the world."
Damian Marley, son of Bob, became the show's first reggae act in 2006. Nigeria's Femi Kuti (son of Afrobeat founder Fela Kuti) also played that year, and 2008 saw multilingual Latin songwriter Manu Chao take the stage.
Lickona said he has been looking for a hip-hop act to blaze a trail for future rap performances, and he suspects a rising star such as K'NAAN and an established luminary such as Mos Def will fit the bill.
The artists' six-song sets will air Saturday night at 9 p.m. ET on PBS.