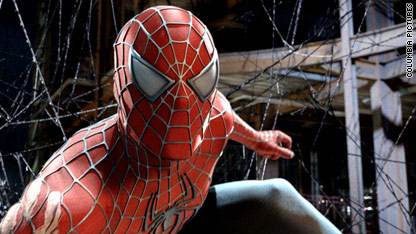 testing captions
The next "Spider-Man" movie won't pick up where the third film left off. It will travel back in time, showing Peter Parker in high school and thereby dropping its big name stars Kirsten Dunst and Tobey Maguire along the way, according to news reports.
The new movie will have a new director and cast but  will still be produced by Avi Arad and Laura Ziskin and Marvel Studios, according to The Hollywood Reporter. It will use a script by James Vanderbilt and put the focus back on a teenage Spider-Man coming of age as he deals with his superpowers.
Entertainment Weekly reports that franchise director Sam Raimi was unable to make Columbia's  deadline of a 2011 release so they opted to make a completely different kind of "Spider-Man" without the director. (Deadline Hollywood chronicled the difficulties Raimi was having with the script.)
The studio is hoping to do a more gritty, contemporary remake and is currently searching out edgy, young directors.
On a different platform, Broadway producers have announced that they will refund tickets for preview performances of "Spiderman: Turn off the Dark," the musical that was scheduled to begin previews in February but has been postponed, according to Patrick Healy in the New York Times Arts Beat blog.