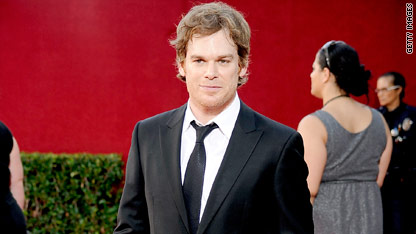 testing captions
Michael C. Hall, who stars as the serial killer protagonist of "Dexter," has been diagnosed with Hodgkin's lymphoma but is on the road to recovery, his representative confirmed to CNN Wednesday.
"I feel fortunate to have been diagnosed with an imminently treatable and curable condition," Hall, 38, said in a statement. "I thank my doctors and nurses for their expertise and care."
Hall rose to fame on the HBO series "Six Feet Under," in which he played the deep-in-the-closet funeral director David Fisher. After a five-season run Hall then took on another character with a few skeletons, playing the title role of a police blood splatter expert-cum-serial killer in the hit Showtime series, "Dexter."
The diagnosis isn't slowing Hall down at all. The actor plans to attend both the Golden Globes and the SAG Awards with his wife, Jennifer Carpenter, and will begin filming the fifth season of "Dexter" later in the year.