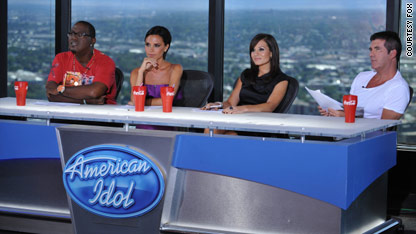 testing captions
Some "Idol" fans may be wringing their hands over the loss of Paula Adbul and the impending exit of Simon Cowell, but that apparently didn't stop folks from tuning in to the premiere.
The most successful show on television scored big Tuesday night with 29.8 million viewers and a first place showing in the Nielsen ratings.
That was far ahead of second place finisher, "NCIS" (CBS), which reached 20.7 million, and "The Good Wife" (CBS) in third place with 8.1 million.
Pretty impressive numbers given the fact that viewers are just tuning in to see wannabe contestants try out (some rather badly) for a chance to go to Hollywood and score a shot at actually making it into the competition.