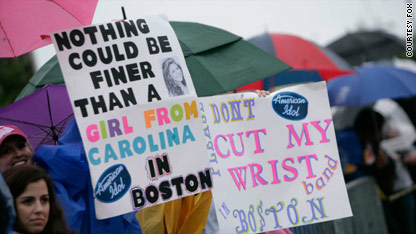 testing captions
"American Idol" returned in all its glory Tuesday night with the Boston auditions and the theme was simple: plenty of heart string tuggers with a sprinkling of the truly awful.
Die-hard fans know the initial shows are set up to feature the worst of the worst of the aspiring "Idols," but this time around it seems we can prepare to be "Gokeyed."
Last season contestant Danny Gokey was introduced with the tragic back story of a young wife whose death helped inspire him to follow his dream all the way to a third place showing.
On the premiere episode Tuesday we were treated to quite a few touching contestant tales and, like Gokey, they all could sing well.
Some standouts for me included 16-year-old Katie Stevens, 16, of Middlebury, Connecticut, whose stirring rendition of "At Last" started with her serenading her grandmother who has Alzheimer's and ended in front of the clearly impressed judges.
There was also the movie-star handsome cancer survivor, Justin Williams. The 28-year-old vocal coach from Sandy, Utah, brought it with his version of "Feeling Good."
Of course there was plenty to laugh at with the usual stinky-singer suspects, including right out of the gate Janet McNamara, 26, whose performance seemed more of a commercial for the "American Idol" video game than anything else. She appeared completely oblivious to her muffin top spilling out of her jeans as she delivered her "wicked awesome" version of "Pocketful of Sunshine."
And with all of the talk of Simon Cowell leaving at the end of the season, the first show really drove home how integral he is to the process. No one, but no one can roll their eyes, make a face and shatter the dreams of the hopefuls with so much cocky finesse.