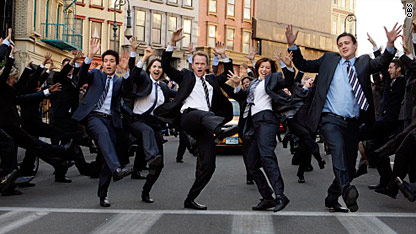 testing captions
(Warning: Read no further if you haven't seen Monday night's "How I Met Your Mother.")
So close! As promised, the producers of "How I Met Your Mother" got Ted Mosby the closest he has ever come to finally meeting the woman he was going to marry in Monday night's 100th episode.
When Ted met grad student Cindy, "Future Ted" told us that the Mother was in the same class as Cindy, felt the same about Ted at first glance and kept a yellow school bus in her apartment, the same one in "Future Ted's" home. That's right, Ted's future wife is - Cindy's roommate!
The show's writers have this misdirection down to a science, but at the same time, there's a lot more to this show than the Mother mystery (as intriguing as that is - Ted saw her foot!).
No, the main reason that this show has reached 100 episodes is because it has one of the best ensembles on television, and this episode was another great example of that. While Ted was off almost meeting the Mother, Barney was determined to score with a female bartender, who just so happened to hate suits. Neil Patrick Harris may have hosted the Emmys, but he deserves one of his own - he effortlessly steals every scene.
Meanwhile, Lily grew more frustrated that Marshall wouldn't admit the bartender was hot, while Robin sulked that the new bartender was getting so much attention, and in the second best scene of the episode (I'll get to the first in a minute), she went behind the bar to show that any female bartender is automatically seen as hot... until she was awkwardly booted out by a real bartender.
All of that would have made for a top-notch episode, but what made this truly legen... wait for it... dary, was Barney's show-stopping musical number ode to suits, which kept every ounce of the show's trademark wit. Let's face it: with Harris in your cast, you gotta have him sing eventually, and it was definitely worth the wait. And no worries: this is Barney, after all, and his suits aren't going anywhere.
When "How I Met Your Mother" started 100 episodes ago, the half-hour comedy was a dying breed. Now, some of the hottest shows on TV include "Modern Family" and "The Big Bang Theory." Often dismissed as another "Friends," this show is truly one of a kind, and here's to many more awesome moments to come. (Up top!)