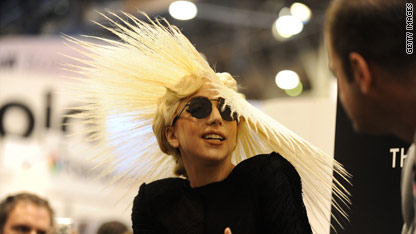 testing captions
Odds are pretty good that the attendees of the Consumer Electronics Show didn't expect to see Lady Ga Ga.
Celebrities are everywhere these days, and that includes CES 2010 in Las Vegas. The Lady was in the house Thursday  to announce a new deal she has with Polaroid to be the creative director of a new specialty line of products.
Always the one to make an entrance, the singer showed up with a "hair hat" made out of blonde locks (possibly her own) hair sprayed to the max and manipulated into the shape of what almost looked like a sunhat.
And she wasn't the only pop star in attendance. Taylor Swift performed as part of her announcement that she plans to document her upcoming tour using Sony's 3-D technology.