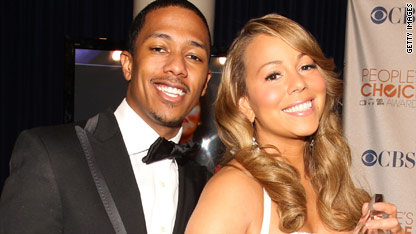 testing captions
Mariah Carey is becoming a pro at the wacky acceptance speeches.
Two awards shows in a row she has managed to deliver a zany performance that had folks buzzing.
On January 5, while accepting the Best Supporting Actress Award at the Palm Springs Film Festival for her role in the film "Precious," she clung to the movie's director Lee Daniels (who lifted her into the air) before she launched into a strangely paced ramble.
She giggled, she paused, and she sometimes appeared to lose her train of thought.
She wasn't much better later while conducting an interview with CNN affiliate KPSP.
In response to a question about what winning the award meant to her, Carey said  "Wow... I mean... It's a, it's very hard, to umm, express it. I worked, I worked really hard, but then again, I didn't work that long... and I just had to go hard, and do my best. And, uh, I'm so grateful to be a part of this film, because just watching it go all the way is, uh, is amazing. Lee Daniels is just incredible and everybody...(trailing off)."
Carey seemed a bit more focused the following night when she won a People's Choice Award, though she struggled to even make it to the microphone in her super tight, form-fitting, white mermaid-style dress.
Husband Nick Cannon offered an assist and his wifey in turn offered him her thanks for the help and "for being my best friend and for many other things that I probably shouldn't mention."