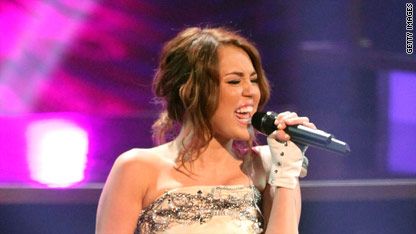 testing captions
Miley Cyrus just wants to live her life. The singer says she wants parents to take more responsibility for parenting their own children and not put so much pressure on her to be a role model.
"My job isn't to tell your kids how to act or how not to act because I'm still figuring that out for myself," the 17-year old pop star says in the February issue of Harper's Bazaar magazine.
The singer says she shouldn't be criticized for the typical teenage behavior she displays, like posting explicit pictures to her MySpace page or performing a pole dance during a performance at the 2009 Teen Choice Awards (OK, so most teenagers probably haven't gone there).
"To take that away from me is a bit selfish," Cyrus says. "Your kids are going to make mistakes whether I do or not. That's just life."
Cyrus also speaks out about the controversy over her nearly nude photo shoot with famed photographer Annie Leibovitz for Vanity Fair in 2008.
"Here, my parents are thinking they're seeing a beautiful photograph by a major photographer, and the people of America want to see something dirty in that?" she says. "It doesn't make sense to us because [my family] doesn't look for negativity. But people don't want to say 'What a great performance' or 'What a great shot.' No one wants to look at something like that and see the positive because it doesn't sell a magazine."