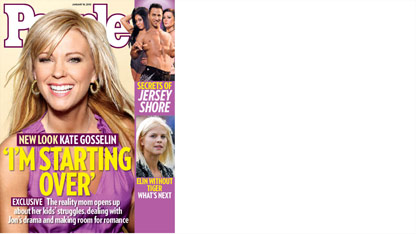 testing captions
Drastic hair changes and bad breakups go hand in hand, but while most women go for a dramatic haircut, Kate Gosselin has found comfort in a head full of hair extensions, courtesy of celebrity stylist Ted Gibson.
The new hair is just the latest sign that the old Kate - whose blonde locks were constantly ridiculed in tabloids - is gone, and a new Kate has taken her place.
"It's good to have hair again," she told People magazine for their upcoming issue. "I never thought I'd have short hair for as long as I did. I feel like this is a fresh start, a fresh me, a fresh life."
Now that her divorce from Jon Gosselin is final, the single mother of eight is positive about the next phase of her life.
"I'm rebuilding," she said in the interview. "There's no option for this not to be a good year. I fought hard for the divorce to be over and final by the end of 2009, I wanted to go into 2010 clear and free. Now I get to start over in a new year, with a new self and new goals."
Is one of those goals finding the next Mr. Kate? She's not ruling it out.
"Being alone at the end of every day, I'm not liking that - it's been a long time, and I feel that loneliness," Kate said. "But I'm not going to go running in the direction of finding someone. I've got to get my kids back on track, my career back on track and my family back on track."