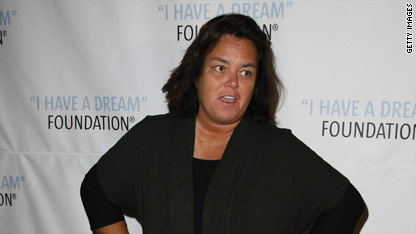 testing captions
Rosie O'Donnell is giddy over her new relationship with Texas-based artist Tracy Kachtick-Anders.
"Did anybody hear I have a new girlfriend?" O'Donnell cooed on her Sirius show "Rosie Radio" on Monday.
O'Donnell said she met up with her new gal pal down in Miami last week for a mini holiday, where the pair was snapped by paparazzi holding hands. She described the relationship as "yummy" saying,  "I love it all. ... It's almost too good to be true!
"[She's a] lovely, lovely, lovely, lovely person named Tracy, who has six children. So she was in Miami with her kids, and we had a great time. We went out to …  see a movie … and walk around Lincoln Road and there were lots of people taking photos of us. And then people following us in the car taking photos," O'Donnell said.  "I had no idea that it [news of the relationship with Tracy] would be on CNN. It's odd for me … and quite odd for Tracy."
The former talk-show host admitted that because she never really dated anyone once she got famous (she began her relationship with her former partner Kelli Carpenter in 1997) that she wasn't prepared for the kind of attention that comes from a new celebrity coupling.
"I felt like Madonna for a moment. Truthfully I'm not really that kind of famous where people follow me," O'Donnell said.