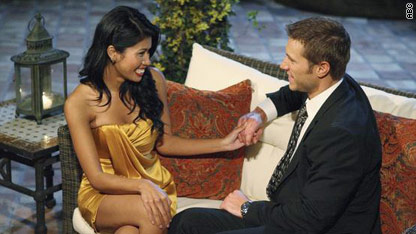 testing captions
The new season of "The Bachelor" promises to be "most dramatic yet," as opposed to the other seasons that pledged the same thing.  And as Monday's premiere showed, it's going to take some time to get to the meat and potatoes of what makes this show crazy.
Jake Pavelka, channeling his inner Fonzie by riding a motorcycle to the "Bachelor" house, tells host Chris Harrison that this will work out for him, adding that the "woman of his dreams" will be in the house.  How funny would it have been if he said such a woman wasn't there, so we can all focus on who's dating a show producer?
This season's bachelorettes range in age from 23 to 31 and, according to Harrison, come from "across the country."  This includes two women from Canada, which apparently became a U.S. state while I was on vacation.  I wonder if Canadian Prime Minister Stephen Harper knows about this development?

One bachelorette tripped into Jake, while another stumbled and ripped her dress while walking with Jake.  Perhaps the show should adapt a casual Friday policy.
Twenty-five women to consider.  What will Jake do to decide which 15 to keep and which 10 to stay home?  Never fear, last season's winning couple, Jillian and Ed, are here to extend their 15 minutes of fame help Jake out by interviewing the contenders!  Unfortunately, the only thing of importance we got from the Woodward and Bernstein of dating is that some dog is off birth control.
In the end, Jake made his picks.  Among those staying are Christina, a woman who brought jellybeans to the house as a "parting gift" to the others (guess that Turtle Wax sponsorship fell through); Michelle, who impersonated an airplane to try to impress pilot Jake; the two women who tripped all over Jake; and Tenley, who received the "first impression rose."
Those sent home include Kimberly, an Oklahoma native who asked Texan Jake to "put their college football differences aside" during the show (guess Jake's not willing to Roll Tide later this week), and British Columbia native Tiana, who will have to inform her family up north what Chris Harrison said about Canada.
As is tradition, the show ended with a rapid fire preview of what to expect during the season.  Tensions flare!  Jake throws a tantrum!  Exclamation points are emphasized!  And before Jake makes his proposal, we find out which woman makes a date with a show producer, as well as whether Harrison learns basic geography.
Did you watch "The Bachelor" last night?  What did you think of the show?