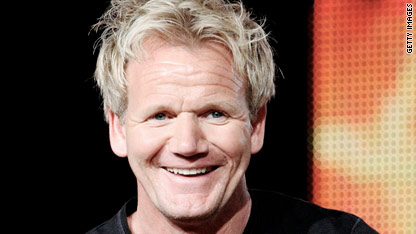 testing captions
Kitchen meanie Gordon Ramsay is looking for amateur chefs for his new Fox show, expected to be called "Master Chef."
This one is just for newbies. Chefs who have spent time in a professional kitchen will not be considered. Ramsay wants folks who love to cook for themselves and their family, but no one with professional training. Think of it as an "American Idol," but for foodies.
Producers are staging auditions in 12 cities around the country, starting in early January. Interested contenders are required to appear at the auditions with a prepared dish. They will be given five minutes to heat up and plate the dish for the judges.
"People will be judged on personality and on the quality of the food they are bringing to us," said supervising casting producer Ethan Petersen.
Tanya Steel, the editor in chief of epicurious.com, will be one of the casting judges. While the ultimate prize for winning the entire competition has not yet been announced, Petersen said the award will be "life-changing."
"Master Chef" is already a hit in the United Kingdom and Australia. Ramsay's other reality cooking competition, "Hell's Kitchen," focuses on professionals just starting their careers. This is the first time the chef has groomed complete amateurs in competition.
"The show is truly an inspirational show being produced by the same team that does the 'Biggest Loser.' We are looking for people that aren't just passionate about food but are passionate about life," Petersen said.