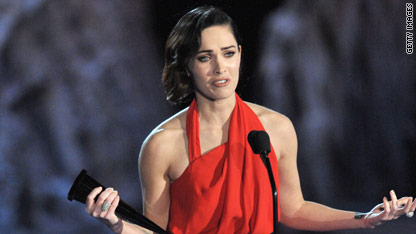 testing captions
Movie fans have mixed feelings about this year's "Transformers: Revenge of the Fallen."
On one hand, the action-packed sequel, which grossed more than $830 million in ticket sales worldwide, was voted the worst movie of the year by readers of the Web site Moviefone.com.
But in a bout of what can only be described as voter schizophrenia, "Transformers" won out in the poll's category for best action movie, beating "Star Trek," "Avatar" and "District 9."
"Transformers" leading lady Megan Fox was voted the sexiest star of 2009, but was also voted the actress who gave the worst performance.
This poll leads me to believe that moviegoers would have been just as happy if "Transformers" just had action-packed scenes of stuff blowing up along with Megan Fox in a non-speaking part. (Make your own joke here – ed.)
Fans offered no such ambivalence when it came to their love affair with "The Twilight Saga: New Moon." The vampire romance won out for the best movie of the year and best chick flick and piqued the interest of future movie-goers.
And the movie folks are most excited to see in 2010? "The Twilight Saga: Eclipse."