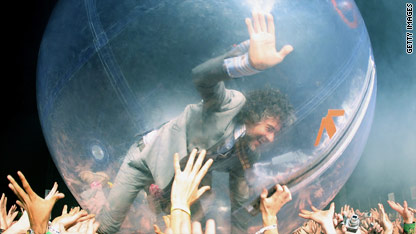 testing captions
Many die-hard Pink Floyd fans aren't happy about a remake of one of the biggest-selling albums of all time, the beloved "Dark Side of the Moon," by the psychedelic alternative rock group, the Flaming Lips. Others love it.
There just seems to be no in-between.
" 'Dark Side of the Moon' is one of the most successful, beloved and influential albums of all time," said M. Tye Comer, executive editor of Billboard.com. "Granted there have been other bands that have covered it in the past but I think when you have someone take on an album of this stature someone out there will cry out blasphemy."
The album was released on Tuesday, though it has been available on iTunes since December 22. The Lips will join forces with Star Death and the White Dwarfs to perform the album in its entirety on New Year's Eve at the Cox Convention Center in their hometown of Oklahoma City.
Pink Floyd covers have cropped up in Flaming Lips performances before, most notably at the Bonnaroo music festival in 2003, but have never raised as many hackles from Floyd fans as this new album.
To supply the eerie vocals heard on the Pink Floyd record, the Lips enlisted the help of Canadian electro-pop singer Peaches and singer and spoken-word artist Henry Rollins.
On the Flaming Lips' own Web site, fans of Pink Floyd expressed their disparate views of the band's efforts.
A poster with the handle "Novel" said, "This is generic & a complete & total flop. I'm embarrassed by it. The Lips version just doesn't work. It sounds 'made up' & completely synthetic. Souless & underwhelming. I'm quite shocked by [its] lameness."
On the other end of the spectrum, a poster named "Graggor" wrote, "I think you can see in the album how the lips have a genuine appreciation of the ideas and themes in the album."
On the iTunes Web site, where customers can rate an album between one and five stars, the number of one-star reviews was fairly evenly matched with the number of five-star reviews, with few reviewers falling  in the middle. Rants and raves range from "Seriously, great and loving it" to "this is the worst decision of their life."